Bihar Student Credit Card Scheme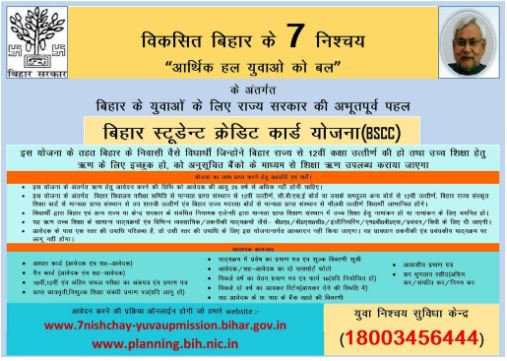 OBJECTIVE
Under this scheme, a loan of up to 4 lakh rupees should be provided by the state government to the poor 12th pass students of Bihar state for getting higher education
Benefits to the Citizens
Under the Bihar Student Credit Card Scheme , no interest will be payable to the borrower. The scheme will benefit the students of the state who are originally from poor background and eager to complete their higher education.
Eligibility
Applicant must be a permanent resident of the state of Bihar.
The educational institution where the student is from is recognized by the state or central government related regulatory agency.
Under the Student Credit Card Scheme 2020 , students will be given loans for higher education for general courses, technical or professional programs.
Students of the state should be 12th pass under this scheme.
Beneficiary:
12th Pass Student for State of Bihar
Benefits:
A loan of up to 4 lakh rupees
How To Apply
https://www.7nishchay-yuvaupmission.bihar.gov.in/