Bihar CM National Family Benefits Scheme 2021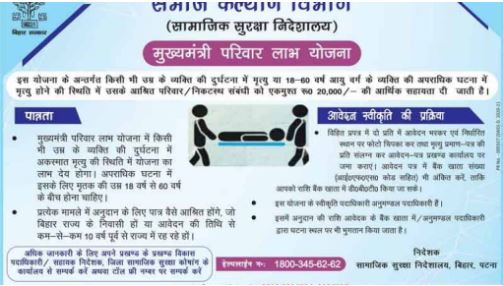 National Family Benefit Scheme has been started by the Chief Minister of Bihar. According to the scheme, those families of Bihar state will get assistance, in which there is no head in the family or if the family runs because of their family member or if that member dies suddenly, or dies in an accident, then this In this situation, financial assistance is given by the state government.
Objective of Bihar National Family Benefits Scheme
The main objective of the National Family Benefit Scheme is to provide financial assistance to the helpless families of the state.
Under the scheme, in the event of the death of the earning head of the family, financial assistance of Rs 20,000 will be given to the family.
Eligibility Criteria for Bihar Mukhyamantri Parivarik Labh Scheme
To get the benefit of the scheme, it is necessary to be a permanent resident of Bihar.
The families receiving benefits under the scheme must be below the poverty line and the family should have been living in Bihar for 10 years.
If the beneficiary family is already taking benefit of any pension scheme etc. then he will not be eligible for this scheme.
Beneficiary:
Economically weaker sections of the state
Benefits:
Financial assistance to poor families
How To Apply
serviceonline.bihar.gov.in